Well, I haven't seen any movie so I'll write about my favourite band - Cold Snap (Croatia).
Genre: groove metal
About them:
A
Cold Snap
, in the meteorological sense, is a sudden brief spell of intense cold and drought that often appears in Australia in spring. Cold Snap, in the musical sense, is a group of five friends from Croatia who determined their goal - sharing their music, thoughts and views with the whole world.
It all started in spring 2003, the first demo CD "
Mea Culpa
" has been finished in the winter of 2005. Numerous gigs followed, including the performance at
Metalcamp
in Slovenia in 2006 and the performance at the ex-Yu metal battle in Serbia where Cold Snap represented Croatia and competed for the opportunity to play at
Wacken Open Air festival
in 2007.
The first album "
Empty Promises
" was released in spring 2008. The acknowledgment for their efforts came in 2008, in form of the "
Zlatna Koogla Award
" for the best new Croatian act, which enabled their second show at Metalcamp in Slovenia and shows with the stars of Metal music such as
Disturbed
,
Soulfly
and
Limp Bizkit
. Cold Snap's desire to progress grew, and in accordance with it, they wanted to make the quality of their new songs as close to perfect as possible, and prepare themselves to enter the studio once again. Precisely, because of that Cold Snap decided to collaborate with
Tue Madsen
, a superb Metal producer (
Moonspell
,
Hatesphere
) who taught them a lot, and with the knowledge they gained an even stronger determination and professionalism.
The band moved on to achieve their goal, with the support of
MIG-music
and the
MK II
record label. The result is the new album "
Perfection
", which is a tense masterpiece on an international level that will stand the test of time!
My thoughts:
So, I think this guys are absolutely great. I love their music, everytime I hear it, I just want to jump and just... Uh, I don't know. I feel so full of energy. I simply love them. It's first Croatian metal band (or any bend, actually) that is popular abroad. AND I met them. Really nice guys, full of joy and laugh.
I love their last album. Simply perfect. ;)
Even if I live in Croatia, I've never been on their concert. I want them to come in my town. Their concerts are absolutely great. I WANT IT! So, dear Cold Snap, come already in Bjelovar.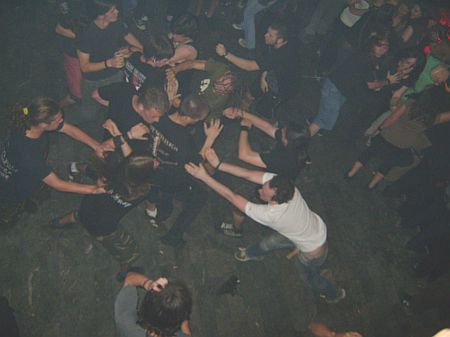 If you want to know more:
http://www.cold-snap.com/home.html